Achieve Your Goals Consistently Over Time
By Leslie Flowers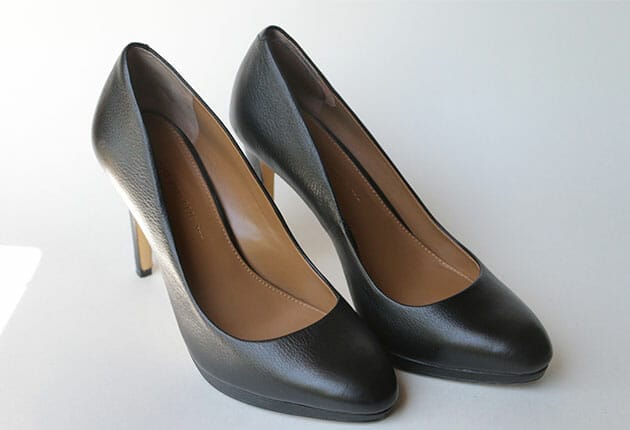 "Whose shoes are these," asked the pilot, dangling them from just outside the small doorway.
"They're mine," I said, lifting my head to answer.
I was crouched on my knees in sand, and tightly encircled in the arms of an American soldier, who, sitting close behind me (like on a motorcycle) had just then removed his hands from covering my ears.
The rocket blasts had stopped and the pilot stood in the door with my shoes dangling in the opening!
All the flight crew were crouched in a small bunker at the end of the runway.
There was a soldier behind everyone one of them as well.
All the crew, save one, crouched like me … the pilot.
The pilot had a foot problem, so while the rest of us ran like hell down the aircraft stairs, across the tarmac to the small bunker, he lumbered along, with rockets going off left and right!
It was a miracle that he was alive, let alone he was holding my shoes! As I lunged into the bunker, I had stepped out of my shoes, just outside the doorway. It seemed funny, his question, amidst such unknown circumstances.
This was Bien Hoa, Viet Nam, 1967.
How did I get there?
Why would anyone Go there?
You may be thinking, "she must be crazy."
Well, yes, I guess I am in a way.
I am crazy in love with my Dream, whatever it might be at the time.
Then, I lived just down from Janis Joplin (Big Brother and the Holding Company) at the corner of Castro and Clipper at the base of Twin Peaks, and studied Drama and Humanities at San Francisco State (a dream to get into this school #2 for Drama in the United States).
I had been a stewardess for Northwest and loved it.
I loved learning the aircraft, where everything was, all the way up to missing a drink for a passenger.
I got to know different aircraft and so many cities in our beautiful country.
Then … I decided I wanted to go to Asia!
How could I do it?
The pricing to fly in that direction was astronomical (2-3x the cost to go to Europe).
Once it was 'burned' in my mind that I was Doing this, I got the answer.
Be a stewardess again, heading to the Orient this time!
Just across the Bay Bridge is Travis Air Force Base where charter airlines took troops into Viet Nam, and brought them home there or on the east cost at Fort Dix in New Jersey.
I got the job (I had no doubt as I saw my life 'through' the prism of traveling East as a done deal) and drove from the City in my 1960 TR3 every day for a month to train in Oakland to become certified to accompany US troops into Viet Nam on a DC stretch 8.
Interesting to note, one day we got six inoculations and everyone was sick as a dog the next day from one of them.
There was quite a shot record; as important as our passports I assure you.
The flights went from Oakland, to Hawaii, to Philippines to Viet Nam.
Drop off 250 troops and pick up 250 who had been there for a year, and bring them home.
With two aircraft circling, it mean Two days in Hawaii!
Two days in the Philippines!
And Two days in Japan!
When we landed the crew that had been there for two days, hopped on the plan, we got off, and the trip continued.
Not only did I make that dream come true, I was paid for doing it.
Perfect!
The City. The Car. The Adventure. The paycheck. All perfect!
There are several others big Dreams throughout my life, ones like this … yet at 19 …
…Living in San Francisco, going to College, singing in a rock band, living down the road from Janis Joplin, seeing all the bands play free every weekend in Golden Gate Park, seeing Ken Kesey's Magic Bus, driving a sports-car …
THIS was my Dream!
Today, a lifetime later, and after refining the exact repeatable rules and process required to achieve a 90 day goal every time, you can if you are willing to finally and forever, achieve your goals consistently Over Time and with predictably … if you Want it very, Very much.
My signature program has been running for thirty-six consecutive quarters, in both entrepreneur groups and as a business executive leadership trainer.
I care that this process leaves clients with a mindset of wealth, health and happiness … not as goals, but 'ways of being,' every day. And that they are each able to maintain that mindset in all areas of life.
With a forty-five year in corporate America and twenty-five as an entrepreneur, I know what it takes.
Please register for my next 5-Day The Art of Results Masterclass December 6-10, 1-2:00 pm EST as my Guest.
They run every three months.
REGISTER HERE: https://leslie-flowers.com
Full workbook and recordings. LIVE each day on LinkedIn.
You must be willing to invest five hours of your time to get this process.
#businessexecutiveleadershiptrainer
#theartofresults
#goalachievement
#masterclass
Photo credit: pumps-ga9605b79_1920.jpg pixabay